13 Ways Landscaping Can Improve Curb Appeal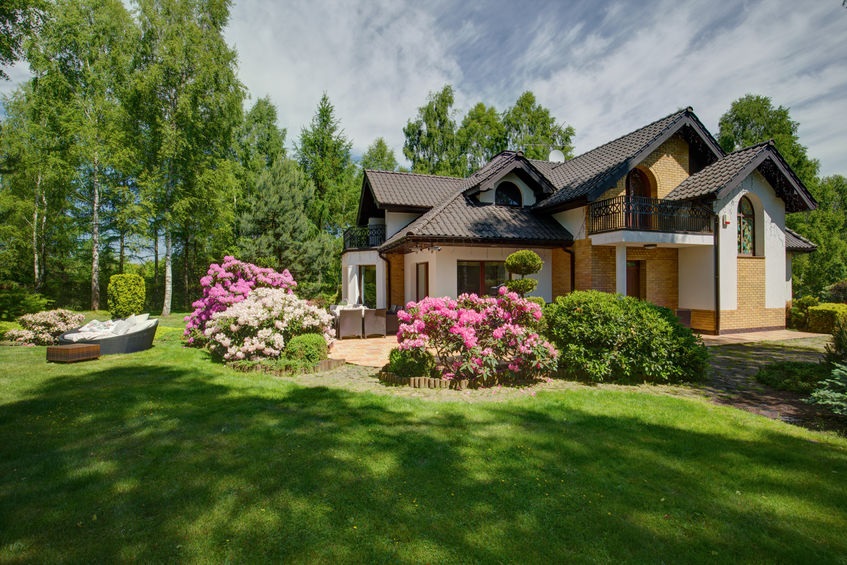 Curb appeal is the impression that the exterior of a property gives off. In the real estate world, it's one of the most important factors in determining whether or not a prospective buyer will want to look at a home, let alone purchase it. Good curb appeal can help a home sell in a matter of days given the right market, but bad curb appeal has the potential to cause a property to remain on the market for months on end.
A home's curb appeal is very often an indicator of what buyers can expect to find on the inside of the house, so making sure your home's exterior is in tip-top shape is of the utmost importance when you're trying to sell. All of this means that your property values can actually be increased if you improve your home's curb appeal.
If you want to help improve your property value and "wow" prospective buyers, one of the best ways to enhance your curb appeal is through landscaping. Oftentimes, a few minor landscaping adjustments are all you need to boost your curb appeal:
1. Get rid of the weeds.
This is the single easiest thing to do to make the outside of your home look a little more neat and tidy. Get some gloves and a trash bin, and get out there and start weeding!

2. Mow the lawn.
Long or uneven, patchy grass is very unattractive. Before you list your home and throughout the selling process, make sure you regularly mow the lawn and keep it well watered and green. If you have any patches of dirt, be sure to plant some grass seed before you list your home.

3. Remove other yard debris.
Big branches, sticks, and leaves can make even the neatest yard look messy and unkempt. Make sure you don't have any of these lying around or piled up in your yard. Don't forget, once you gather up all your vegetative debris, you can
bring it to American Property Experts
to be recycled into mulch!
4. Edge the lawn and driveway.
Even if you mow, you'll probably find that the areas on the sides of your lawn and the edge of the driveway need a little extra attention. For these spots, all you need is a good weed wacker and you can easily trim the extra growth to match the look of the rest of your yard/grass.

5. Take care of overgrown or dead bushes.
Nobody wants to look at dead or scraggly plants. If you have bushes that are dead or dying, remove them. If they are simply overgrown, give them a good trim. Shapely bushes that are consistent with the style of the rest of your landscaping are much more attractive to prospective buyers.

6. Freshen up your mulch.
Scattered, faded mulch just isn't as nice looking as new, fresh mulch. Not only can mulch improve your curb appeal, but it can help improve the health of your plants and yard by retaining moisture and cooling the ground underneath. American Property Experts sells a variety of
organic, recycled, bulk mulches
to suit any need!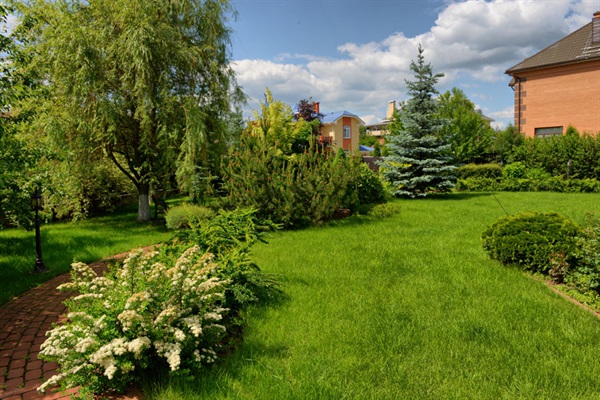 7. Use color to your advantage.
We've all heard someone on a home improvement show talking about adding a "pop" of color, and this is something you can easily do for your yard, too. Flowers, along with flowering trees and bushes, make a great addition to any yard. When choosing colors, pick something bright and cheerful that matches the paint scheme of your home.

8. Don't forget potted plants.
Aside from adding plants to your yard and around your porch, consider purchasing some potted plants to place next to the front door. This is a great way to help tie your outdoor themes and indoor themes together, and also offers another opportunity to add color and texture to your landscaping.

9. Paint the door.
Though not a landscaping tip per se, your door is another good way to tie your yard and home's style together. Plus, since it's one of the first things prospective buyers see, it can't hurt to give it a fresh coat of paint in a lively color.

10. Add privacy plants.
This tip is especially useful if your home is close to your neighbor's. Use tall, bushy shrubs to create a barrier between your home and the homes next door. Trees can also help accomplish this, plus they can shade your home and help reduce electricity costs - another great selling point!

11. Add an irrigation system.
This is especially useful for big yards or gardens since most people don't want to have to mess with the hassle of watering a large property. A simple, timed irrigation system is a huge plus to many prospective buyers.

12. Create a walkway.
If you don't have a path leading up to your front door, add one! All it takes is a lined pathway filled with gravel or mulch, and some flat paver stones to create a simple but elegant walkway that can make any home feel more inviting.

13. Brighten things up.
The final touch should be adding some lighting to your yard. It doesn't have to be anything fancy or expensive. Even just investing in some small, solar-powered stake lights for your walkway or driveway can make a big difference.
As you're working on your landscaping, remember that American Property Experts has all the soil and mulch you need to get the job done in a way that's cost-efficient and environmentally friendly! Use our bulk
soil and mulch calculator
to figure out exactly how much you need and then stop by either of our two
Wilmington locations
at 606 Sunnyvale Drive or 2831 N. Kerr Avenue to pick it up!