Preparing Your Garden for the First Frost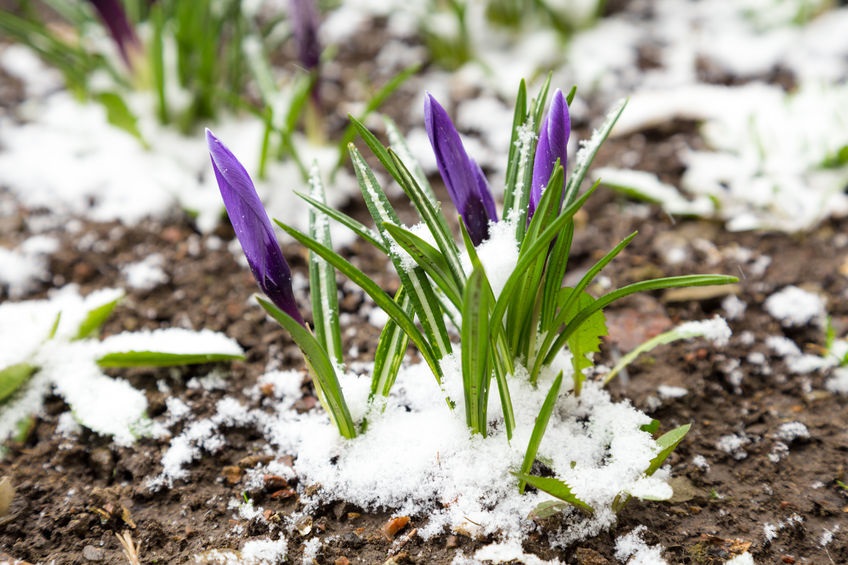 Historically speaking, the first frost in North Carolina can happen anywhere between September and November, depending on which part of the state you live in. The first frost in Wilmington, NC typically doesn't happen until November, but has been known to occur as early as October.
Regardless of where in North Carolina you live, it's best to prepare your garden for the first frost well before it happens in order to protect your plants. If you don't, your plants can become scorched and brown, or even die.
Getting a garden ready for that first cold snap takes a little bit of preparation, but is actually pretty easy once you learn exactly what you need to do. Follow these tips from American Property experts to help keep your plants safe through even the coldest North Carolina winter.
1. Bring in potted and hanging plants.
If you can move them inside, you should. If you have one, a garage is a great place to store plants over the winter. If not, simply store them elsewhere in your house and treat them like you normally would. If you get a nice, warm day during the winter, take them back outside during the day to get a little sunlight.
2. Water your outdoor plants before the frost.
Healthy, well-watered plants will survive better under extremely cold conditions. Plus, water can act as an insulator by helping to hold heat in the ground and keeping your plants that much warmer.
3. Spread some extra mulch.
Mulch can also help hold heat in, so it's a good idea to put a 2-3 inch thick layer down around your outdoor plants to keep them warm. American Property Experts has an awesome
mulch calculator
to help you figure out just how much mulch you'll need. If you have a large garden to cover, we can also help you save money on your winterizing project with our
bulk mulch
.
4. Cover plants that have to stay outside.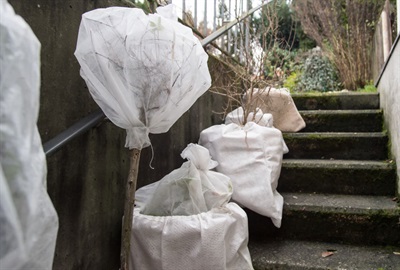 If your pots are too large/heavy to move indoors, or if you have plants in the ground or raised beds, protect them by placing row covers over top. If you don't have row covers, you can also place stakes around the garden, cover the area with a sheet or large piece of burlap, and secure the fabric, so it doesn't blow away.
Or, you can simply cut some milk jugs or 2-liter bottles in half and place them upside down over the top of each plant to keep them warm. Note that, no matter which type of covering you choose, you should remove it in the morning to allow your plants to warm up in the sun (as long as it's not stormy/snowy)
5. Place buckets of water under your plant coverings.
As we've mentioned, water retains heat. Placing some buckets or even small jars of water throughout your garden will allow them to absorb heat during the day and emit it at night.
6. Use light as a heat source.
If your plants are uncovered, you could attach a lamp or spotlight to a nearby tree and point it toward your garden at night. Or, if your plants are covered, you can use a regular set of LED holiday lights to help warm them up. Just make sure your lights aren't touching the coverings or anything else flammable.
7. Be careful with salt.
If you use salt to keep your walkways from freezing, be sure to keep it far away from your plants or where water can wash it toward your plants. If the area you're de-icing is near your garden, it's much safer to use an organic solution, like coffee grounds or beet juice.
And remember, if your plants do suffer some damage during the first frost, or even over the whole winter, don't panic. Often, growth that appears to be damaged can give way to new life in the spring. Plus, even damaged foliage can help hold heat in and protect the rest of the plant through the winter.
So wait until spring to trim those damaged branches and leaves off your plants. Then,
drop off your vegetative debris
at one of our two locations so we can recycle it into
high-quality, organic topsoil
. Or, if you have a larger project that requires
tub grinding
or
clearing a large piece of land in Wilmington, NC
, we can help with that too. Just call us at 910-793-1460 or
click here for a free estimate
.